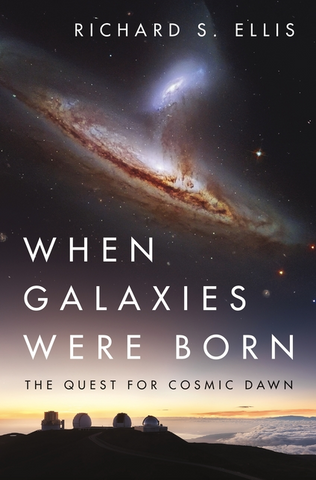 When Galaxies Were Born: The Quest for Cosmic Dawn
**Forthcoming 08 November 2022** Pre-Order Now to reserve a copy!  **สั่งจองล่วงหน้าได้เลยเพื่อให้ได้รับอย่างรวดเร็วเมื่อหนังสือออก**
One of today's leading astronomers takes readers inside the decades-long search for the first galaxies and the origin of starlight
Astronomers are like time travelers, scanning the night sky for the outermost galaxies that first came into being when our universe was a mere fraction of its present age. 
When Galaxies Were Born
 is Richard Ellis's firsthand account of how a pioneering generation of scientists harnessed the world's largest telescopes to decipher the history of the universe and witness cosmic dawn, the time when starlight first bathed the cosmos and galaxies emerged from darkness.
In a remarkable career spanning more than forty years, Ellis has made some of the most spectacular discoveries in modern cosmology. He has traveled the world to conduct observations in locales as beautiful and remote as the Australian outback, the Canary Islands, Hawaii, and the Chilean desert. In this book, he brings to life a golden age of astronomy, describing the triumphs and the technical setbacks, the rivalries with competing teams, and the perennial challenge of cloudy nights. Ellis reveals the astonishing progress we have made in building ever larger and more powerful telescopes, and provides a tantalizing glimpse of cosmic dawn.
Stunningly illustrated with a wealth of dramatic photos, When Galaxies Were Born is a bold scientific adventure enlivened by personal insights and anecdotes that enable readers to share in the thrill of discovery at the frontiers of astronomy.
280 pages, Hardcover, November 2022.
---
We Also Recommend