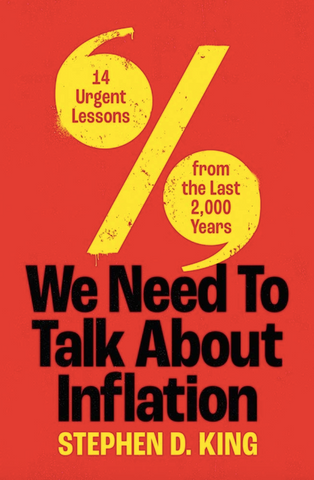 We Need to Talk about Inflation: 14 Urgent Lessons from the Last 2,000 Years
**Forthcoming 23  May 2023** Pre-Order Now to reserve a copy!  **สั่งจองล่วงหน้าได้เลยเพื่อให้ได้รับอย่างรวดเร็วเมื่อหนังสือออก**
A myth-busting explanation of inflation, the desperate gullibility of central bankers and finance ministers--and our abject failure to learn from history
From investors and monetary authorities to governments and policy makers, almost everyone had assumed inflation was dead and buried. But now people the world over are confronting a poisonous new economic reality and, with it, the prospect of vast and increasing wealth inequality.
How have we arrived in this situation? And what, if anything, can we do about it?
Celebrated economist Stephen D. King--one of the few to warn ahead of time about the latest inflationary upheaval--identifies key lessons from the history of inflation that policy makers chose not to heed. From ancient Rome through the American Civil War and up to the asset bubbles of today, inflation stems from policy error, sovereign greed, and a collective loss of faith in currencies.
We Need to Talk About Inflation cuts through centuries of bad judgment and misunderstanding, offering a means to intervene now--so we can begin to tackle the political and social upheaval unleashed by inflation.
 224 pages, Hardcover, May 2023.
---
We Also Recommend