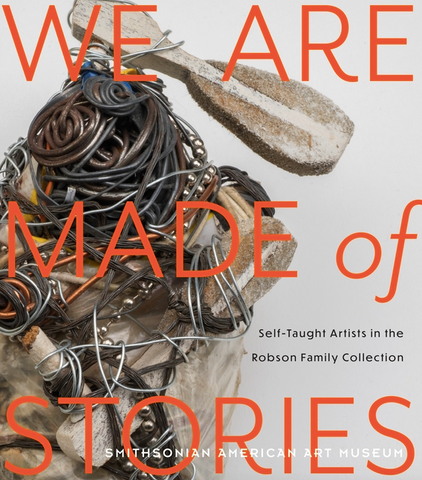 We Are Made of Stories: Self-Taught Artists in the Robson Family Collection
**Forthcoming 04  October 2022** Pre-Order Now to reserve a copy!  **สั่งจองล่วงหน้าได้เลยเพื่อให้ได้รับอย่างรวดเร็วเมื่อหนังสือออก**
A richly illustrated history of self-taught artists and how they changed American art
Artists without formal training, who learned from family, community, and personal journeys, have long been a presence in American art. But it wasn't until the 1980s, with the help of trailblazing advocates, that the collective force of their creative vision and bold self-definition permanently changed the mainstream art world. In 
We Are Made of Stories
, Leslie Umberger traces the rise of self-taught artists in the twentieth century and examines how, despite wide-ranging societal, racial, and gender-based obstacles, they redefined who could be rightfully seen as an artist and revealed a much more diverse community of American makers.
Lavishly illustrated throughout, 
We Are Made of Stories
features more than one hundred drawings, paintings, and sculptures, ranging from the narrative to the abstract, by forty-three artists--including James Castle, Thornton Dial, William Edmondson, Howard Finster, Bessie Harvey, Dan Miller, Sister Gertrude Morgan, the Philadelphia Wireman, Nellie Mae Rowe, Judith Scott, and Bill Traylor. The book centralizes the personal stories behind the art, and explores enduring themes, including self-definition, cultural heritage, struggle and joy, and inequity and achievement. At the same time, it offers a sweeping history of self-taught artists, the critical debates surrounding their art, and how museums have gradually diversified their collections across lines of race, gender, class, and ability.
Recasting American art history to embrace artists who have been excluded for too long, 
We Are Made of Stories
vividly captures the power of art to show us the world through the eyes of another.
Published in association with the Smithsonian American Art Museum
 2.03 cms H x 26.67 cms L x 23.37 cms W, 288 pages, Softcover, October 2022.
---
We Also Recommend