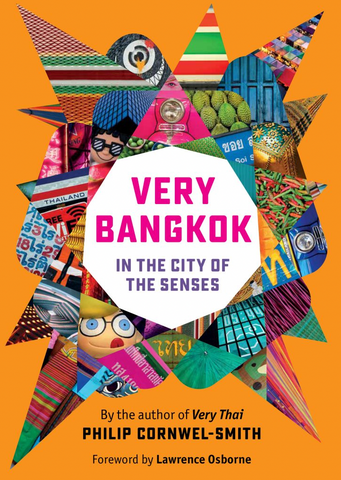 Very Bangkok: In the City of the Senses by Philip Cornwel-Smith
VERY BANGKOK: Bangkok arrests the visitor with a bewildering juxtaposition of old and new, high-tech and impromptu, sacred and profane. While modernizing apace and a myriad outside influences, the Thai capital draws equal vigor from its historical communities, cultural diversity and contemporary urban tribes. Author of Very Thai and Time Out Bangkok, Philip Cornwel-Smith takes an alternative look at the subcultures of his adopted town in this practical thematic handbook. With the aid of maps, listings and references, the visitor can engage with Bangkok's contradictory character according to their mood or interest.

Explore the city's contrasting environments, architectural fabric, ethnic patchwork and intertwined beliefs. Encounter distinct social scenes, where the hip or hi-so, local or bohemian and see how traditional roots infuse the current Thai flowering in arts and entertainments, fashion and food lifestyle and spas. Photography by Philip Cornwel-Smith and others enhances this insiders' guide to a city like no other.
17.8 x 24.8 cm, 360 pages, fully illustrated in color, hardcover, 2020.
---
We Also Recommend