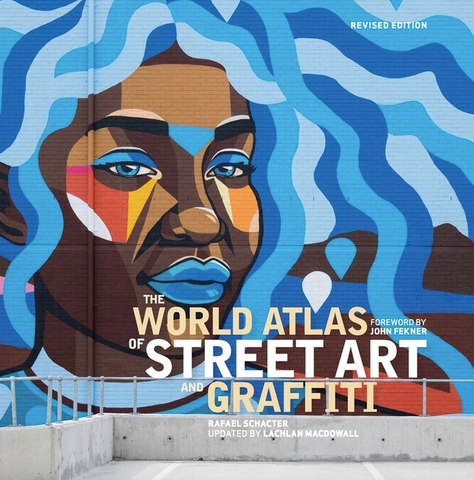 The World Atlas of Street Art and Graffiti (Revised)
**Forthcoming 27  June 2023** Pre-Order Now to reserve a copy!  **สั่งจองล่วงหน้าได้เลยเพื่อให้ได้รับอย่างรวดเร็วเมื่อหนังสือออก**
Bursting with color and energy, this revised edition of the definitive guide to street art and graffiti covers the world's most significant artists, styles, and the urban landscapes that form their canvas
Ten years after its original publication, 
The World Atlas of Street Art and Graffiti
 is recognized as the definitive guide to the most significant artists and styles of street art and graffiti around the world. This revised edition brings the content up to our present moment, expanding its geographic breadth to six continents. Featuring more than 700 full-color photographs of raw, energetic, whimsical, and eye-catching art, the book is visually exciting as well as an essential survey of the urban art of our time.
Organized geographically by country and city, the publication profiles more than 100 of today's most important street artists--Espo in New York, Merlot in Seattle, Os Gêmeos in São Paulo, Scotty Marsh in Sydney, Essu in Tokyo, Lady K 156 in Paris, Milu Correch in Buenos Aires, and Nardstar* in Cape Town--alongside key examples of their work. With contributions by the foremost authorities on street art and graffiti, this landmark publication continues to provide a nuanced understanding of a global contemporary art practice.
400 pages, Hardcover, June 2023.
---
We Also Recommend