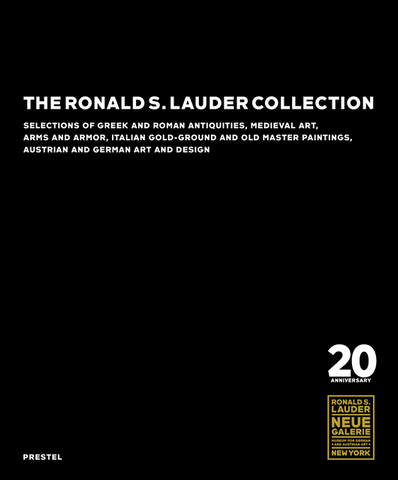 The Ronald S. Lauder Collection
**Forthcoming 03  January 2023** Pre-Order Now to reserve a copy!  **สั่งจองล่วงหน้าได้เลยเพื่อให้ได้รับอย่างรวดเร็วเมื่อหนังสือออก**
Selections of Greek and Roman Antiquities, Medieval Art, Arms and Armor, Italian Gold-Ground and Old Master Paintings
Providing an exclusive glimpse into one of the finest private art collections in the world, this book presents the extraordinary collection of the Neue Galerie's co-founder, Ronald S. Lauder
 To celebrate the Neue Galerie's twentieth-anniversary year, an exhibition will be presented of selections from the collection of its co-founder.
 The accompanying book continues with the theme of the tenth anniversary exhibition. Whereas the earlier show and publication focused on pieces from the third century BC to the twentieth century AD from Austria, France, and Germany, this exhibition and book will represent various centuries and media, highlighting Greek and Roman works, and Italian thirteenth- and fourteenth-century gold-ground paintings.
Essays by distinguished art historians and curators will reflect on the breadth of these special fields, providing a background for various works, and their incorporation into the collection of the Neue Galerie's co-founder.
408 pages, Hardcover, January 2023.
---
We Also Recommend