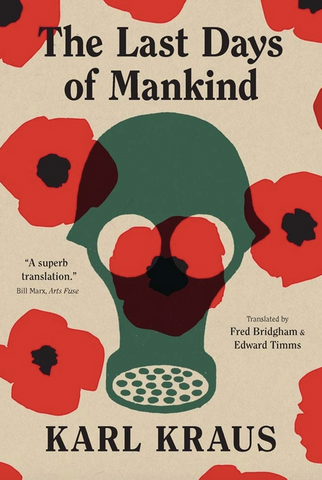 The Last Days of Mankind: The Complete Text (Margellos World Republic of Letters)
**Forthcoming 07  February 2023** Pre-Order Now to reserve a copy!  **สั่งจองล่วงหน้าได้เลยเพื่อให้ได้รับอย่างรวดเร็วเมื่อหนังสือออก**
Kraus's iconic WWI drama, a satirical indictment of the glory of war, now in English in its entirety for the first time
"[A] superb translation."--Bill Marx,
Arts Fuse
One hundred years after Austrian satirist Karl Kraus began writing his dramatic masterpiece, 
The Last Days of Mankind
remains as powerfully relevant as the day it was first published. Kraus's play enacts the tragic trajectory of the First World War, when mankind raced toward self-destruction by methods of modern warfare while extolling the glory and ignoring the horror of an allegedly "defensive" war. This volume is the first to present a complete English translation of Kraus's towering work, filling a major gap in the availability of Viennese literature from the era of the War to End All Wars.
Bertolt Brecht hailed The Last Days as the masterpiece of Viennese modernism. In the apocalyptic drama Kraus constructs a textual collage, blending actual quotations from the Austrian army's call to arms, people's responses, political speeches, newspaper editorials, and a range of other sources. Seasoning the drama with comic invention and satirical verse, Kraus reveals how bungled diplomacy, greedy profiteers, Big Business complicity, gullible newsreaders, and, above all, the sloganizing of the press brought down the Austro-Hungarian Empire. In the dramatization of sensationalized news reports, inurement to atrocities, and openness to war as remedy, today's readers will hear the echo of the fateful voices Kraus recorded as his homeland descended into self-destruction.
672 pages, Softcover, February 2023.
---
We Also Recommend