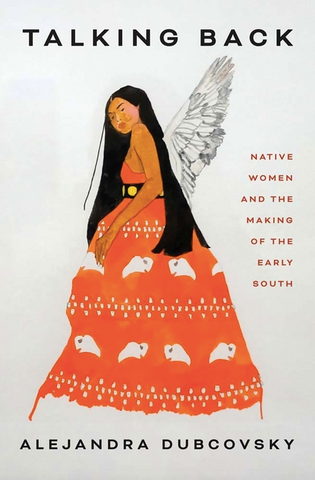 Talking Back: Native Women and the Making of the Early South
**Forthcoming 23  May 2023** Pre-Order Now to reserve a copy!  **สั่งจองล่วงหน้าได้เลยเพื่อให้ได้รับอย่างรวดเร็วเมื่อหนังสือออก**
A pathbreaking look at previously unknown stories of women in the early South that show how Native women defined power and defied colonial authority
"An artful, powerful book. . . . [A] substantial contribution to our knowledge of women in the so-called 'forgotten centuries' of European colonialism in the southeast."--Malinda Maynor Lowery, author of
The Lumbee Indians
"A remarkable book. Alejandra Dubcovsky pursued relentless research to uncover the histories of women previously unseen, even unnamed. As Dubcovsky shows, they had names, they had families, they had lives that mattered. The historical landscape is transformed by their presence."--Lisa Brooks, author of
Our Beloved Kin
Alejandra Dubcovsky tells a story about war, slavery, loss, remembrance, and the women whose lives, resilience, and fight transformed the early South. Exploring accounts of women in the colonial South, mostly Native, but also Spanish, Floridiana, and of African descent, she rewrites early American history, challenging the male-centered narrative evident in colonial archives.
Dubcovsky reconstructs the lives of Native women--Timucua, Apalachee, Chacato, and Guale--to show how they made claims to protect their livelihoods, bodies, and families. Through the stories of the Native cacica who demanded her authority be recognized, the Spanish elite woman who turned her dowry and household into a source of independent power, the Floridiana who slapped a leading Native man in the town square, and the Black woman who ran a successful business at the heart of the main Spanish town, Dubcovsky reveals the incredible women who transformed the early South.
280 pages, Hardcover, May 2023.
---
We Also Recommend