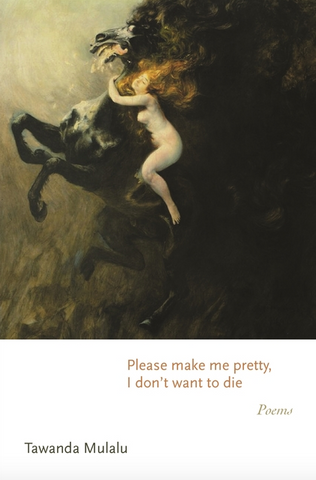 Please Make Me Pretty, I Don't Want to Die: Poems
**Forthcoming 13  September 2022** Pre-Order Now to reserve a copy!  **สั่งจองล่วงหน้าได้เลยเพื่อให้ได้รับอย่างรวดเร็วเมื่อหนังสือออก**
The debut collection of an exciting new voice in poetry
Please make me pretty, I don't want to die
 explores tactility, sound, sensuality, and intimacy. Set across the four seasons of a year, these fresh and original poems by Tawanda Mulalu combine an inviting confessional voice and offbeat imagery, and offer an appealing mixture of seriousness and humor.
The speaker of these poems probes romantic and interracial intimacy, the strangeness and difficulty of his experiences as a diasporic Black African in White America, his time working as a teacher's assistant in a third-grade classroom, and his ambivalent admiration for canonical poets who have influenced him, especially Sylvia Plath. Juxtaposing traditional forms such as sonnets and elegies with less orthodox interjections, such as prose-poem "prayers" and other meditations, the collection presents a poetic world both familiar and jarring--one in which history, the body, and poetry can collide in a single surprising turn of image: "The stars also suffer. Immense and dead, their gasses burn / distant like castanets of antebellum teeth. My open window / a synecdoche of country."
104 pages, Softcover, September 2022.
---
We Also Recommend