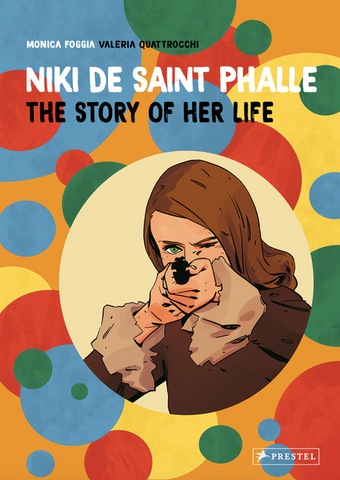 Niki de Saint Phalle: The Story of Her Life
**Forthcoming 09  May 2023** Pre-Order Now to reserve a copy!  **สั่งจองล่วงหน้าได้เลยเพื่อให้ได้รับอย่างรวดเร็วเมื่อหนังสือออก**
The first graphic novel on de Saint Phalle tells the story of how a self-taught feminist artist became a worldwide sensation, a radical promoter of gender equity and a champion of social justice.
Few artists' lives are as inspiring as that of Niki de Saint Phalle.
While she started her career as a fashion model, a subsequent breakdown led to her taking up painting as therapy. Entirely self-taught, Niki spent the rest of her years devoted to art that was based in emotional truth and a feminist point of view.
This graphic novel follows Niki's extraordinary career, from her early "shooting pictures," in which she fired bullets at bags of paint, to the creation of the exuberantly formed life-sized dolls she called "Nanas," which established her as an international success. The book also looks at her close collaborations with her husband and fellow artist Jean Tinquely; her painting, drawing, assemblage, performance art, and large-scale installations; and her work in film, theater, and architecture. The texts explore how Niki tackled social and political issues and institutions-- and shows why her work remains as eloquent and powerful today as when it was first created.
Looking beyond her brightly colored sculptures, this book tells the story of a woman who fought for a fairer world; a headstrong outsider, who made a name for herself in the male-dominated art world of the day; and an autodidact, who became one of the greatest artists of her time.
128 pages, Hardcover, May 2023.
---
We Also Recommend