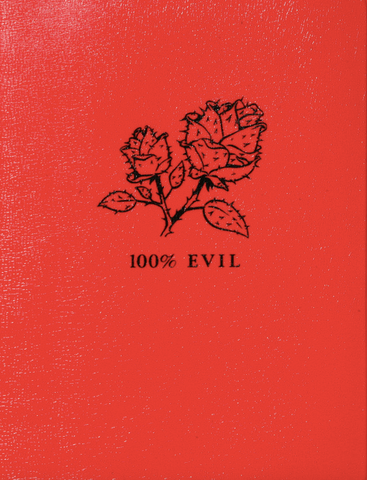 Nicholas Blechman & Christoph Niemann: 100% Evil
**Forthcoming 21  March 2023** Pre-Order Now to reserve a copy!  **สั่งจองล่วงหน้าได้เลยเพื่อให้ได้รับอย่างรวดเร็วเมื่อหนังสือออก**
A revised edition of the acclaimed satirical guide to the world's evils, embracing pain and laughter, the extraordinary and the banal
In what forms does evil show its ugly face today? Gigantic worms boring their way through the globe? Pieces of a puzzle eating one another? The jets of a shower piercing the body of an unexpecting man beneath? A lone leaf fluttering to the ground before finally shattering? These and other delightfully incongruous images await us in 100% Evil.
Simultaneously dark and hilarious, this book of drawings by renowned illustrators Nicholas Blechman (born 1986), creative director of the New Yorker, and Christoph Niemann (born 1970), a regular contributor to the New Yorker, reveal their visions of evil in today's unpredictable world. The pair, who met in the '90s while working at the New York Times and the New Yorker, respectively, spent many nights of their early friendship at bars, sketching out images to represent the sex affairs, political scandals and acts of terror that constituted the news. As the world grew darker, they devoted more time to the depiction of evil. The result, 100% Evil, is a thoughtful, comical and--at times--joyful book that shows sometimes it's good to be bad. It was originally published in 2005 as part of the One Hundred Percent series of limited-edition illustrated books.
176 pages, Softcover, March 2023.
---
We Also Recommend