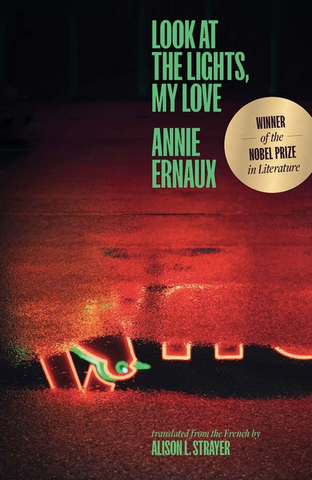 Look at the Lights, My Love (Margellos World Republic of Letters)
**Forthcoming 04  April 2023** Pre-Order Now to reserve a copy!  **สั่งจองล่วงหน้าได้เลยเพื่อให้ได้รับอย่างรวดเร็วเมื่อหนังสือออก**
A meditation on the big-box superstore, from 2022 Nobel laureate Annie Ernaux
For half a century, French writer Annie Ernaux has restlessly explored stories and subjects often considered unworthy of artistic reflection. In this exquisite meditation, Ernaux turns her attention to the phenomenon of the big-box superstore, a ubiquitous feature of modern life that has received scant attention in literature.
Recording her visits to a single superstore in Paris for over a year, Ernaux captures the world that exists within its massive walls. Culture, class, and capitalism converge, reinscribing the individual's role and rank within society while absorbing individuality into the machine of mass consumerism. Through Ernaux's eyes, the superstore emerges as a "great human meeting place, a spectacle," a space where we come into direct contact with difference. She notes the unexpectedly intimate encounters between customers; how our collective desires are dictated by the daily, seasonal, and annual rhythms of the marketplace; and the ways that the built environment reveals the contours of gender and race in contemporary society.
With her relentless powers of observation, Annie Ernaux takes the measure of a place we thought we knew, calling us to question the experiences we overlook and to gaze more deeply into ordinary life.
96 pages, Softcover, April 2023.
---
We Also Recommend