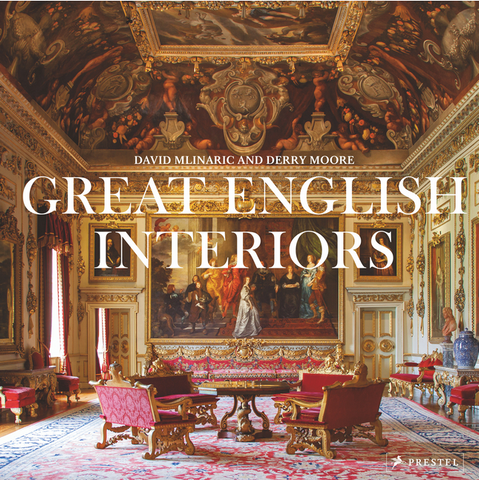 Great English Interiors
**Forthcoming 07  March 2023** Pre-Order Now to reserve a copy!  **สั่งจองล่วงหน้าได้เลยเพื่อให้ได้รับอย่างรวดเร็วเมื่อหนังสือออก**
This special edition revives an acclaimed work. Exquisite photographs showcase England's finest buildings, guiding the reader through five centuries of English architecture and interior design.
In this new, special edition of a cult classic work, photographer Derry Moore and interior designer David Mlinaric take readers on a panoramic tour inside some of Britain's finest buildings, guiding them through five centuries of English interior design.
Mlinaric's informed text and Moore's perceptive photographs present the best examples of both public and private buildings-- from sixteenth-century Haddon Hall, Chastleton and Knole to seventeenth-century Hatfield and Wilton; Houghton Hall and Syon House from the eighteenth century; Apsley House, the Palace of Westminster and Waddesdon Manor from the nineteenth; and twentieth-century examples including Charleston and the Apollo Victoria Theatre. The work of British masters including Inigo Jones, William Kent and Robert Adam, as well as of influential twentieth-century tastemakers such as Nancy Lancaster, Pauline de Rothschild and David Hicks, is revealed in striking photographs and authoritative texts.
Anglophiles, armchair tourists, and lovers of grand interiors will relish the photographs of these wonderful buildings, while discovering more about the designers and architects who built them, charting the evolution that has made British style so alluring, enduring, and widely imitated over the centuries.
224 pages, Hardcover, March 2023.
---
We Also Recommend