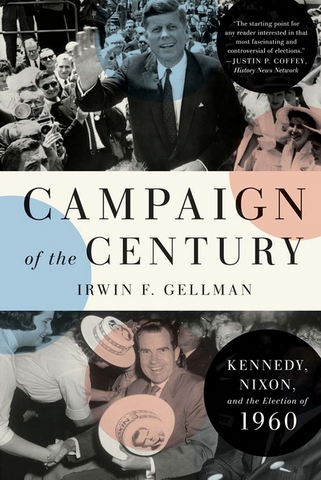 Campaign of the Century: Kennedy, Nixon, and the Election of 1960
**Forthcoming 21  February 2023** Pre-Order Now to reserve a copy!  **สั่งจองล่วงหน้าได้เลยเพื่อให้ได้รับอย่างรวดเร็วเมื่อหนังสือออก**
Based on massive new research, a compelling and surprising account of the twentieth century's closest election
"[Gellman] offers as detailed an exploration of the 1960 presidential race as can be found."--Robert W. Merry,
Wall Street Journal
"A brilliant work . . . the research is absolutely phenomenal . . . This book should receive every accolade the publishing industry can give it, including the Pulitzer Prize."--John Rothmann, KGO's "The John Rothmann Show"
The 1960 presidential election between John F. Kennedy and Richard Nixon is one of the most frequently described political events of the twentieth century, yet the accounts to date have been remarkably unbalanced. Far more attention is given to Kennedy's side than to Nixon's. The imbalance began with the first book on that election, Theodore White's The Making of the President 1960--in which (as he later admitted) White deliberately cast Kennedy as the hero and Nixon as the villain--and it has been perpetuated in almost every book since then. Few historians have attempted an unbiased account of the election, and none have done the archival research that Irwin F. Gellman has done. Based on previously unused sources such as the FBI's surveillance of JFK and the papers of Leon Jaworski, vice-presidential candidate Henry Cabot Lodge, and many others, this book presents the first even-handed history of both the primary campaigns and the general election. The result is a fresh, engaging chronicle that shatters long-held myths and reveals the strengths and weaknesses of both candidates.
504 pages, Softcover, February 2023.
---
We Also Recommend