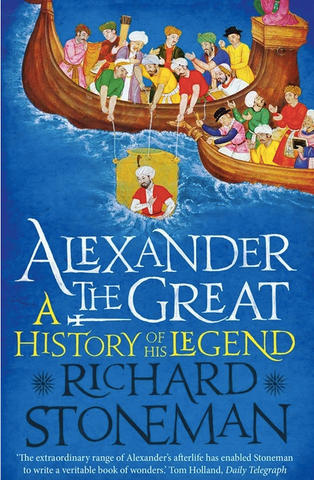 Alexander the Great: A Life in Legend
**Forthcoming 21  February 2023** Pre-Order Now to reserve a copy!  **สั่งจองล่วงหน้าได้เลยเพื่อให้ได้รับอย่างรวดเร็วเมื่อหนังสือออก**
In his brief life, Alexander the Great gained fame as the military genius who conquered the known world. After death, his legend only increased.
Alexander the Great (356-323 B.C.) precipitated immense historical change in the Mediterranean and Near Eastern worlds. But the resonance his legend achieved over the next two millennia stretched even farther--across foreign cultures, religious traditions, and distant nations.
This engaging and handsomely illustrated book for the first time gathers together hundreds of the colorful Alexander legends that have been told and retold around the globe. Richard Stoneman, a foremost expert on the Alexander myths, introduces us first to the historical Alexander and then to the Alexander of legend, an unparalleled mythic icon who came to represent the heroic ideal in cultures from Egypt to Iceland, from Britain to Malaya.
Alexander came to embody the concerns of Hellenistic man; he fueled Roman ideas on tyranny and kingship; he was a talisman for fourth-century pagans and a hero of chivalry in the early Middle Ages. He appears in Jewish, Christian, and Islamic writings, frequently as a prophet of God. Whether battling winged foxes or meeting with the Amazons, descending to the underworld or inventing the world's first diving bell, Alexander inspired as a hero, even a god. Stoneman traces Alexander's influence in ancient literature and folklore and in later literatures of east and west. His book provides the definitive account of the legends of Alexander the Great--a powerful leader in life and an even more powerful figure in the history of literature and ideas.

 352 pages, Softcover, February 2023.
---
We Also Recommend