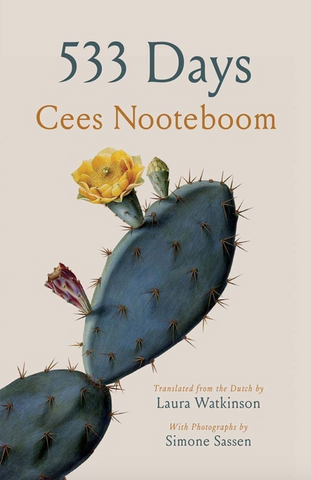 533 Days (Margellos World Republic of Letters)
**Forthcoming 18  April 2023** Pre-Order Now to reserve a copy!  **สั่งจองล่วงหน้าได้เลยเพื่อให้ได้รับอย่างรวดเร็วเมื่อหนังสือออก**
The noted Dutch poet and novelist Cees Nooteboom reflects on the life of the mind through a reexamination of books, music, art, travel, and gardening
"Nooteboom's real subject is the one that's defined his career--mainly, the persistent strangeness of existence and its refusal to be fully resolved by religion, philosophy, or science. . . . His journal . . . can seem like a medieval bestiary, a nature chronicle with the vividness of a dream."--Danny Heitman,
Wall Street Journal
"Laura Watkinson's deft English translation never reads like one."--Michael Dirda,
Washington Post
Though a tireless explorer of distant cultures, Cees Nooteboom has been returning for more than forty years to the Spanish island of Menorca. It is in his house on this "island of the wind," with a study full of books and a garden taken over by cacti and many insects, that the 533 days of writing take place. The result is neither a diary nor a set of movements of the soul organized by dates but rather a "book of days," with Nooteboom's observations about what is immediately around him, his love for Menorca, and his thoughts on the world, on life and death, on literature and oblivion. Every impression opens windows onto vast horizons: The Divine Comedy and the books it generated, Borges's contempt for Gombrowicz, the death of David Bowie, the endless flight of the Voyagers, the repetition of history as tragedy but never as farce. Nooteboom resists the noise of current events yet he must return to them several times, skeptically contemplating the threat of a disintegrating Europe. Reading 533 Days is like having a conversation with an extraordinary mind.

224 pages, Softcover, April 2023.
---
We Also Recommend