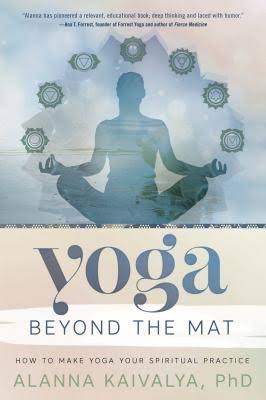 Yoga Beyond the Mat: How to Make Yoga Your Spiritual Practice
While many engage in asana, the physical practice, yoga's most transformative effects are found in the realms of the spiritual and psychological. Yoga Beyond the Mat shows you how to develop a personal, holistic yoga practice to achieve lasting and permanent transformation. Join Alanna Kaivalya as she guides you through a complete range of topics, including: 
• Removing Obstacles
• Appreciating the Present Moment 
• Balancing the Chakras 
• Healing Childhood Wounds 
• Creating Your Own Rituals 
• Transforming Your Archetypal Energy 
• Entering the Blissful State 
This book shows you that yoga doesn't make your life easier; it makes you better at your life. Through ritual, meditation, journaling, asana, and other spiritual practices, Yoga Beyond the Mat provides techniques for developing a personal mythology and allowing the ego to rest, leading modern-day yogis toward what they have been missing: the realization of personal bliss.
Praise:
"[Alanna] guides and inspires students and teachers alike toward their own liberation, with patience, generosity, and wholehearted enthusiasm."―Linda Sparrowe, former editor-in-chief of Yoga Internationaland author of Yoga At Home
"This is the book I dreamed of when I started my yoga path . . . [Yoga Beyond the Mat includes] all the steps, tools, rituals, and wisdom for lasting bliss."―Dana Flynn, founder of Laughing Lotus Yoga
"Alanna has pioneered a relevant, educational book; deep thinking and laced humor."―Ana T. Forrest, founder of Forrest Yoga and author of Fierce Medicine
"Alanna reveals with great clarity and approachable language the nuances, shadings and shadows of this ancient ritual of wellness. I highly recommend it."― Dennis Patrick Slattery, PhD, author of Riting Myth, Mythic Writing and Creases in Culture
"Alanna's rigorous scholarship interweaves with applicable and tangible to-do's that brings reality to your spirituality."―Jill Miller, creator of Yoga Tune Up® and bestselling author of The Roll Model 
"I found Yoga Beyond the Mat both informative and active; both entertaining and enlightening. Dr. Kaivalya brings yoga back to its roots. She recovers the blend of the physical, tangible aspects of practice with the spirit and mind. In today's hectic life, the revival of yoga-past when combined with soul centered engagement offers the remedy we seek . . . a breakthrough book."―Stephen Aizenstat, PhD, chancellor and founding president of Pacifica Graduate Institute
"In this groundbreaking book integrating yoga, Jungian psychology, and personal mythology, Alanna Kaivalya recovers the spiritual dimension of yoga for contemporary Western practitioners. By offering readers a creative ensemble of integrated practices, she provides an innovative approach to personal development that engenders both spiritual awakening and psychological wholeness."―Dr. Patrick Mahaffey, professor and associate chair of Mythological Studies Program at Pacifica Graduate Institute and author of Evolving God-Images
"Alanna writes with honesty and clarity about the quest to find self-knowledge and bliss, perfectly balancing skepticism and enthusiasm. The result is a practical guide to the history and philosophy of yoga, and a useful map to living an integrated, satisfying and richly meaningful life."―Dave Stringer, Grammy-nominated Kirtan artist
"Drawing on yoga, psychology, mythology, and ritual, Alanna guides readers on a transformative journey toward self-awareness and 'personal bliss,' through an amazing array of practices. Yoga Beyond the Matis like a library of ideas for studying your self."―Kaitlin Quistgaard, writer and former editor-in-chief of Yoga Journal