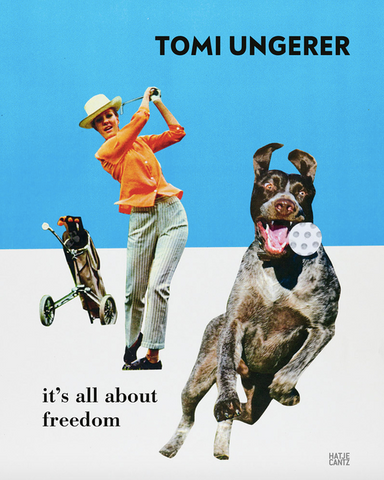 Tomi Ungerer: It's All about Freedom
**if not in-store, please allow up to 2 weeks for delivery** หากหนังสือหมดจากหน้าร้าน เราจะส่งภายใน 10-14 วัน**
Collages, drawings and more from the legendary illustrator and author of The Three Robbers
From early childhood drawings of the 1930s to collages and objects from the last decade of the artist's life, Tomi Ungerer: It's All about Freedom presents a comprehensive cross section of Ungerer's vast oeuvre for the first time, revealing the political and stylistic lines and breaks in his career as a "freewheeling artist." With an abundance of illustrations, the book includes many unpublished and unseen works from the Ungerer estate, and celebrates his unceasing passion for experimentation across genres and the interplay between drawing, collage and assemblage.
Accompanying essays―by the artist's daughter Aria Unger, Thérèse Willer, Belinda Grace Gardner and Thomas David―examine the continuities and motifs across the many genres Ungerer traversed.
Tomi Ungerer (1931–2019) published his first drawings in the legendary Simplicissimus magazine, and began his extensive career as an illustrator, children's book author and artist in New York. In 2003 Ungerer was appointed the first Ambassador for Childhood and Education by the Council of Europe, and in 2007 the Tomi Ungerer Museum opened in Strasbourg, making him the first living artist with a museum dedicated to his life and work in France. Ungerer lived on a farm in southern Ireland from 1976 until his death in 2019.
2.79 cms H x 28.45 cms L x 22.61 cms W, 264 pages, Softcover, March 2022.
---
We Also Recommend