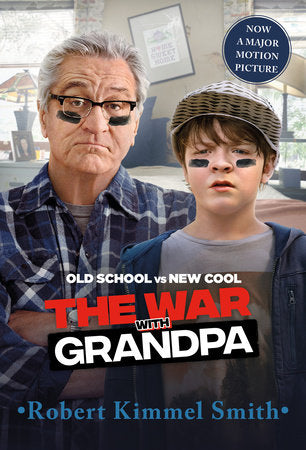 The War with Grandpa Movie Tie-in Edition By ROBERT KIMMEL SMITH
Don't miss the laugh-out-loud classic about a boy who leaps into battle when he's forced to share a room with his grandfather–now a major motion picture starring Robert De Niro, Uma Thurman, Christopher Walken, Jane Seymour, Rob Riggle, Cheech Marin, and Oakes Fegley!

Peter is thrilled that Grandpa Jack is coming to live with his family. That is, until Grandpa Jack moves right into Peter's room. Like any grandson, he loves his grandpa, but…he wants his room back. Now Peter has no choice–he declares war!

Peter begins to devise outrageous plots with the help of his friends to make Grandpa surrender the room. But even though the pranks escalate, Grandpa Jack is tougher than he looks. Rather than give in, Grandpa Jack plans to get even. They used to be such great pals, but Peter is now wondering–has their war gone too far?
Paperback,  160 Pages, size: 5-3/16 x 7-5/8
---
We Also Recommend