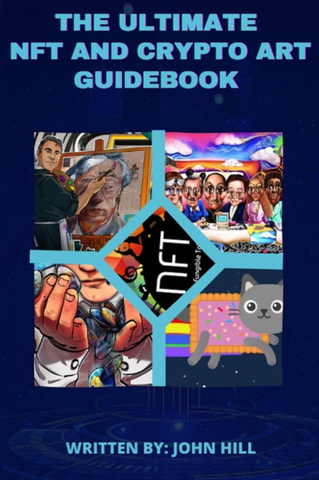 The Ultimate NFT and Crypto Art Guidebook: Digital and Crypto Art for Beginners by John Hill
**If not in-store, please allow up to 2 weeks for delivery** หากหนังสือหมดจากหน้าร้าน เราจะส่งภายใน 10-14 วัน**
Non-Fungible Tokens, or NFTs, are currently in the midst of the type of hype-cycle last seen in the blockchain/crypto world when Initial Coin Offerings were all the rage. On March 11, 2021, an NFT associated with a piece of digital art sold at auction at Christie's for $69 million. Other NFTs, such as one based on Jack Dorsey's first Tweet, are selling for millions as well, and there is an active secondary market for some NFTs which can drive prices up quickly after the initial sale.
The burgeoning market for NFTs, or non-fungible tokens, is turning the art, music, and finance worlds upside down. Recently, Grimes sold almost $6 million of her digital art-renderings of tattooed, spear-wielding cherubs floating in purple-hued post-apocalyptic ruins-as NFTs on Nifty Gateway, the "premier marketplace" for NFTs. Kings of Leon became the first band to offer an album as both a streamable collection of songs and an NFT. In the sports world, game highlights can be bought and sold as NFTs, though anyone can watch these for free.
NFTs have rapidly become the next big thing in cryptocurrency's crossover out of elusive anonymous e-wallet dealings and into the more public cultural web sphere. If you've seen any of this news and wondered, okay so what even is an NFT?, here is a brief guide to the emerging form of digital collectibles.
0.58 cms H x 22.91 cms L x 15.19 cms W 112 pages, softcover, April, 2021.
---
We Also Recommend