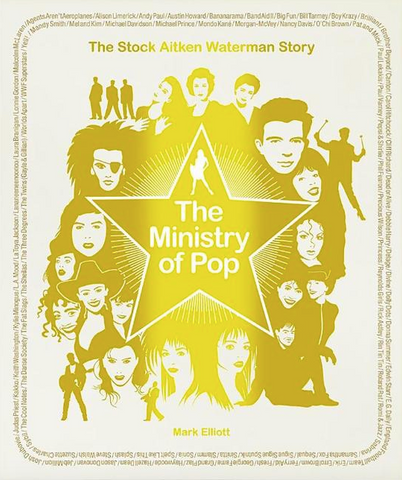 The Ministry of Pop: The Stock Aitken Waterman Story
**if not in-store, please allow up to 2 weeks for delivery** หากหนังสือหมดจากหน้าร้าน เราจะส่งภายใน 10-14 วัน**
Pop Journalist Mark Elliott has written the ultimate guide to one of the greatest independent success stories in music history, with extensive source material and a foreword written by Mike Stock. The Ministry of Pop is a lavish, full-colour book which tells the amazing story of 10 sensational years, including a year by year hit list, 846 images including every single & album release and many magazine covers & spreads from the period.

For anyone who bought the records, the pop magazines or crowded around the TV for Top of The Pops or the Saturday morning shows, this deluxe book will bring back hundreds of memories and is the definitive story behind some of the greatest British pop music ever produced.

Stock, Aitken & Waterman dominated the charts for more than a decade with a catalogue of smash-hit songs and a technicolour cast of pop sensations. The trio launched the careers of Kylie Minogue, Rick Astley, Jason Donovan & more, even established artists like Donna Summer, Cliff Richard and Bananarama benefitted from their Midas touch.
2.29 cms H x 28.96 cms L x 25.65 cms W, 192 pages, Hardcover, September 2017.
---
We Also Recommend