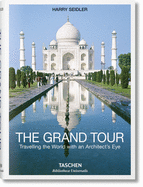 The Grand Tour by Harry Seidler
**if not in-store, please allow up to 2 weeks for delivery** หากหนังสือหมดจากหน้าร้าน เราจะส่งภายใน 10-14 วัน**
Architect Harry Seidler spent more than 50 years traveling the globe, extensively photographing the peak achievements in architecture from 3000 B.C. to the present day. Thanks to sound advice given to him early on by his photographer brother Marcell ("Only use Leica cameras and Kodachrome film, which is archival"), Seidler's hobby quickly developed into a passion and, finally, an impressive archive of world architecture.
Seidler's photographs illustrate the history and style―country by country―of architecture in Europe, the Middle East, Asia, and the Americas. Divided into chapters by country, each with a brief introduction outlining its architectural history, The Grand Tour offers armchair travelers, students, architecture buffs, and historians a unique international tour of buildings ancient, old, modern, and always spectacular.
 About the series
Bibliotheca Universalis ― Compact cultural companions celebrating the eclectic TASCHEN universe!
Hardcover, 4.06 cms H x 20.07 cms L x 14.99 cms W (1.13 kgs) 576 pages
---
We Also Recommend