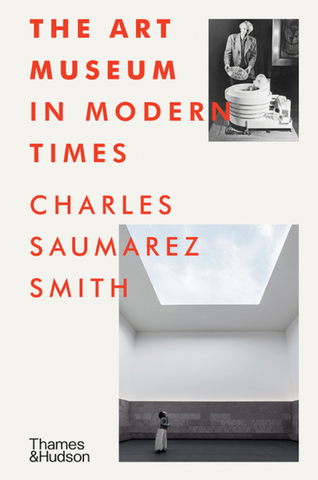 The Art Museum in Modern Times by Charles Saumarez Smith
**If not in-store, please allow up to 2 weeks for delivery** หากหนังสือหมดจากหน้าร้าน เราจะส่งภายใน 10-14 วัน**
How have art museums changed in the past century? Where are they headed in the future? Charles Saumarez Smith is uniquely qualified to answer these questions, having been at the helm of three major institutions over the course of his distinguished career. For The Art Museum in Modern Times, Saumarez Smith has undertaken an odyssey, visiting art museums across the globe and examining how the experience of art is shaped by the buildings that house it.
His story starts with the Museum of Modern Art in New York, one of the first museums to focus squarely on the art of the present rather than the past. When it opened in 1939, MoMA's boldly modernist building represented a stark riposte to the neoclassicism of most earlier art museums. From there, Saumarez Smith investigates dozens of other museums, including the Tate Modern in London, the Getty Center in Los Angeles, the West Bund Museum in Shanghai, and the Centre Pompidou in Paris. He explores our shifting reasons for visiting museums, changes to the way exhibits are organized and displayed, and the spectacular new architectural landmarks that have become destinations in their own right.
Global in scope yet full of personal insight, this fully illustrated celebration of the modern art museum will appeal to art lovers, museum professionals, and museum goers alike.
Charles Saumarez Smith has been director of the United Kingdom's National Portrait Gallery, director of the National Gallery, and secretary and chief executive of the Royal Academy. He is the author of East London, The Company of Artists: The Origins of the Royal Academy of Arts in London, and The National Gallery: A Short History, among other titles.
3.30 cms H x 23.62 cms L x 15.24 cms W 272 pages, Hardcover, April 2021.
---
We Also Recommend