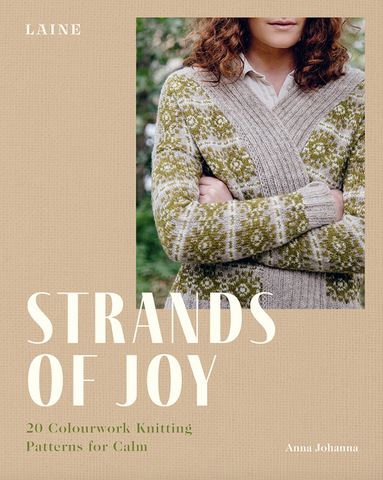 Strands of Joy: 20 Colourwork Knitting Patterns for Calm
**if not in-store, please allow up to 2 weeks for delivery** หากหนังสือหมดจากหน้าร้าน เราจะส่งภายใน 10-14 วัน**
Strands of Joy features 20 versatile colorwork patterns for challenging and relaxing knitting, from Finnish knitwear designer Anna Johanna and Nordic knitting experts Laine.
No hobby is more mindful than knitting. In strange times, one can be endlessly grateful for the gentle rustle of needles, soft wool sliding between fingers, the calming effect of following a pattern - and the reward of a handmade creation. For this beautiful book, Anna Johanna's background in math has informed her in creating 20 complex and unique colorwork patterns, with designs that evoke Scandinavian scenes and whimsical motifs. The projects include sweaters and cardigans in up to 12 sizes, as well as an elegant dress, a warming hat and a kid's pullover. Each comprehensive pattern is seamlessly worked top down using circular needles, with extra resources and support available on the Laine website. With stunning photography and styling evokes the cozy Nordic lifestyle and slow living, Strands of Joy is a knitting book to bring calm and color to your life. Cast on a mindless two-color project or let your mind find peace in more complicated knits that require you to stay focused. Knitting is more than just knit, knit, purl. It is a feeling.

2.03 cms H x 26.67 cms L x 21.34 cms W, 176 pages, Softcover, September 2022.
---
We Also Recommend