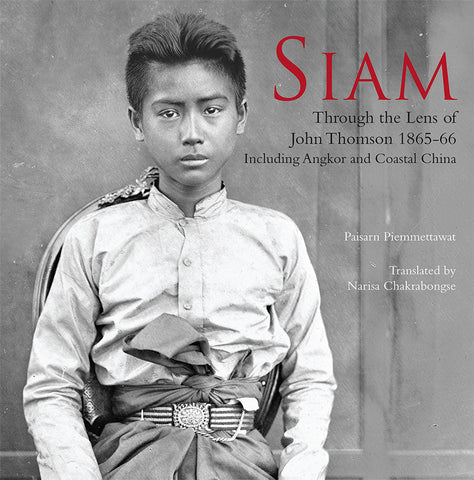 SIAM : Through The Lens of John Thomson 1865-66
ABOUT THE BOOKS
Legendary photographer and travel writer John Thomson (1837-1921) set off for Asia in 1862 and over the next ten years he undertook numerous journeys photographing countries in Asia including Siam, Cambodia, Vietnam and many areas in China. The
photographs of these journeys form one of the most extensive records of any region taken in the 19th century. The range, depth and aesthetic quality of John Thomson's photographic vision mark him out as one of the most important travel photographers. 
Thomson arrived in Siam in the autumn of 1865 to discover a land more glamorous and colourful than any he had previously seen. With the help of the British Consul in Bangkok, Thomson was able to gain an audience with King Mongkut who granted him permission to take some formal portraits of the King, his royal family and chief ministers. Whilst in Bangkok he was invited to attend and document an important ceremony for the heir apparent Crown Prince Chulalongkorn, as well as photographing the royal barge and a major funeral. Thomson stayed on in Bangkok for several months and photographed many aspects of the city, river scenes, its surrounding countryside and people. 
Having read a number of accounts of the Cambodian jungle and the amazing Angkor Wat ruins, Thomson was eager to see them for himself. Due to the success of his royal portraits, Thomson managed to procure a letter from King Mongkut to facilitate his passage to Cambodia. Despite an arduous and dangerous journey, Thomson's hardship paid off and he became the first photographer to document Angkor Wat. 
These photographs form a unique archive of images documenting 19th century Asian landscapes, architecture, people and customs. The collection of over 600 glass plates travelled back with Thomson to Britain in 1872 and today it is housed in the Wellcome Library, London.
---
We Also Recommend