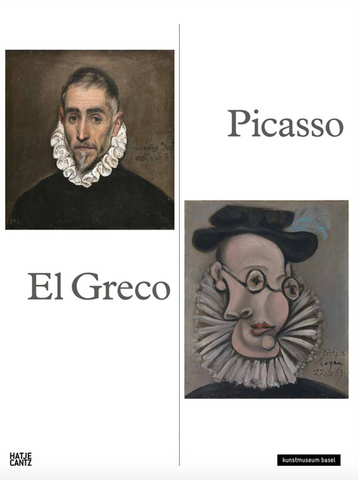 Picasso - El Greco
**if not in-store, please allow up to 2 weeks for delivery** หากหนังสือหมดจากหน้าร้าน เราจะส่งภายใน 10-14 วัน**
Tracing the contours of Picasso's evolving dialogue with the master of phantasmagorical figuration
In his youth, Pablo Picasso (1881–1973) frequented the Prado Museum, rejecting a formal education in favor of studying the works of the old masters himself. El Greco (1541–1614) particularly captivated his attention, and his admiration soon bloomed into inspiration. Signature features of El Greco's style were regenerated by Picasso's reverent, if also subversive, hand. During his Blue Period (1901–04), the artist incorporated El Greco's penchant for elongated figures, sober backgrounds and a touch of mysticism and mannerism; during his late career, he more explicitly embraced his fascination with the Spanish Golden Age, evoking El Greco's palette of warm browns and ochers. Indeed, Picasso helped spearhead a resurgence of interest in El Greco, whose work―while acclaimed by his contemporaries in the 16th century for its undeniable ingenuity―was largely forgotten following his death, until the early 1900s. By engaging in a dialogue with his predecessor, Picasso established a point of historical continuity in his work―a grounding presence in the midst of his radical formal interventions.
This volume juxtaposes 40 masterpieces by the artists, underscoring the depth and longevity of this engagement.
2.29 cms H x 29.46 cms L x 23.11 cms W, 192 pages, Hardcover, August 2022.
---
We Also Recommend