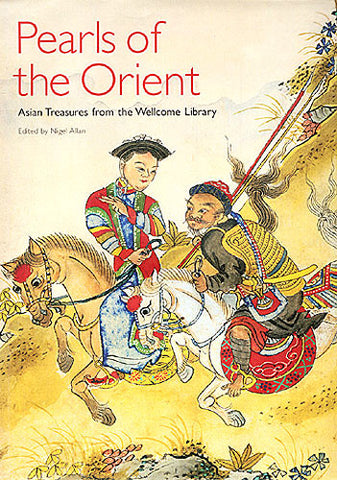 Pearls of the Orient: Asian Treasures from the Wellcome Library
Pearls of the Orient: Asian Treasures from the Wellcome Library
Edited by Nigel Allan
Contributing authors: Nigel Allan, Vrej Neressian, Nikolaj Serikoff, Sergei Tourkin, Dominik Wujastyk, Jeevan Singh Deol, William Pruitt, Peter Nyunt, Henry Ginsburg, Gyurme Dorje, Hartmut Walravens and Peter F. Kornicki
The Wellcome Library in London preserves one of the major collections in Europe of manuscripts, printed books and pictorial material relating to Asia. This is largely due to the enthusiasm and vision of the American-born pharmacist and philanthropist, Sir Henry Wellcome. Although celebrated as a library devoted to medical history and related topics, the Asian Collections document in text and illustration practically every area of human endeavour found among the many peoples and cultures of the East. The Wellcome Trust, an independent research-funding charity originating from Wellcome's will, supports the Library and its work today as an international resource for the history and understanding of the medicine.
This lavishly illustrated book conveys the richness and diversity of Wellcome's legacy in a series of studies contributed by experts from the UK, Germany and Russia, all of whom have worked on the Wellcome Asian Collections over the last 25 years.
Each chapter reflects a different region of Asia, its peoples and culture, in which something of the variety of the Asian Collections preserved in the Wellcome Library can be appreciated. The different languages and their scripts, the various materials used for writing, the multiplicity of cultural and religious backgrounds and their antiquity are exemplified in the Asian Collections. Today they constitute a major resource for study and research of Asia's cultural and social history so beautifully illustrated in this publication.
---
We Also Recommend