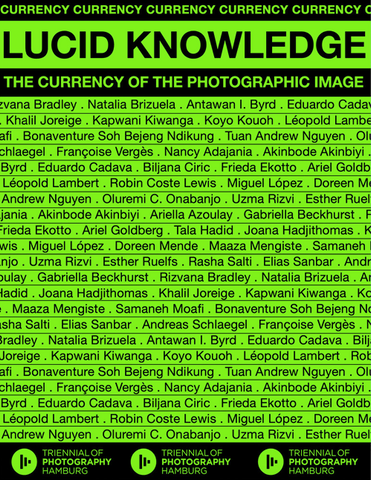 Lucid Knowledge: The Currency of the Photographic Image
A star-studded assembly of curators and theorists reflect on the image as a social "currency"
Using the theme of currency to invite reflection on the contemporary power of the photograph to relay meaning across distance, this volume explores the value of photography in the 21st century--its relationship to value-making, canon-making, circulation and knowledge production. At a time when the production, distribution and consumption of photographic images has become ubiquitous, the digital image has become the exchange currency on social platforms. This critical reader gathers international perspectives reflecting on how photography shapes today's narratives and our perception and experience of the world.
Contributors include: Nancy Adajania, Koyo Kouoh, Ariella Azoulay, Natalia Brizuela, Bonaventure Soh Bejeng Ndikung, Akinbode Akinbiyi, Robin Coste Lewis, Maaza Mengiste, Gabriella Beckhurst Feijoo, Biljana Ciric, Tala Hadid, Oluremi C. Onabanjo, Joana Hadjithomas, Khalil Joreige, Tina Campt, Saidiya Hartman, Elias Sanbar, Léopold Lambert, Françoise Vergès, Frieda Ekotto, Antawan I. Byrd, Ariel Goldberg, Rasha Salti, Kapwani Kiwanga and Carolin Köchling.
2.29 cms H x 21.84 cms L x 17.02 cms W, 280 pages, Softcover, August 2022.
---
We Also Recommend