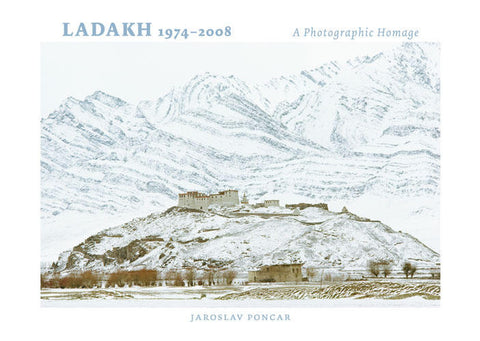 Ladakh 1974-2008: A Photographic Homage
Ladakh 1974–2008: A Photographic Homage by Jaroslav Poncar is a rare tribute to Ladakh, the 'Land of Passes' — one of the most beloved landscapes of the Himalayas. Poncar is one of the first Westerners to travel to Ladakh when it was open for visitors in 1974. His countless trips and his love for Ladakh resulted in this retrospective collection of photographs that span more than three decades. This singular volume honours the timeless Ladakh for its proud locals and unforgettable beauty.
Beautifully illustrated, with texts by John Keay and Jaroslav Poncar's personal reflections on Ladakh and his photographs.
Jaroslav Poncar was born in Prague in 1945. He now lives in Cologne, Germany, where he was professor at the Department for Imaging Sciences at Cologne University of Applied Science from 1973 to 2010.
His countless, photographically motivated travels have usually taken him to the Himalayas, Tibet, India, Burma, Yemen and Cambodia. For twenty years he was concerned with the photographic documentation of the early buddhist all painting in the Himalayas (Alchi, Tabo, Mustang) and Tibet (Tholing). Between 1996 and 2005 he was the deputy director of the German Apsara Conservation Project in Angkor Wat, Cambodia and during this period he performed the most comprehensive photographic documentation of the largest temple in the world. His most recent publications are Burma — the Land that Time Forgot, Himalayas — Where Gods and Man Meet, Angkor — A Photographic Portrait, Himalayan Kingdoms and Tibet (all published by Edition Panorama, Mannheim, Germany). In Europe, during the short leaves he could take from his teaching, it was France where he pursues panoramic projects. To date he has published his panoramics from the Loire Valley and from Paris.
Serindia Publications is preparing a new two-volume scholarly edition of the murals in the temple complex at Alchi, Ladakh.
---
We Also Recommend