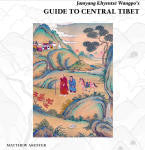 Jamyang Khyentsé Wangpo's Guide to Central Tibet
JAMYANG KHYENTSÉ WANGPO'S GUIDE TO CENTRAL TIBET

Matthew Akester
   The earliest and best-known guidebook to Tibet, composed by the greatest modern master of Tibetan Buddhism (Jamyang Khyentsé Wangpo 1820-92) has long been consulted by specialists. It was first translated by students of Giuseppe Tucci in Rome in the 1950s, when the academic study of Tibetan culture was still in its formative period. This book is the long-awaited result of an extraordinary research adventure, compiled over more than a decade of independent travel, textual archaeology, field interviews with scholars, monks and villagers, photo research, and of bearing witness to the brutal destruction and modern transformation of an ancient land. During the 1990s, Matthew Akester walked the length and breadth of Central Tibet in the tracks of Khyentsé Wangpo, visiting all of the more than 200 places listed in the Guide, meeting the people who rebuilt them after the Cultural Revolution or could remember what they once were, searching out Tibetan literary sources that shed even the faintest light on their history, and mapping them on a landscape rendered unrecognisable by the rapid construction of a new Chinese Tibet. This book is a monumental contribution to Tibetan studies, a treasure of insight into central Tibet's history and monuments, the world of traditional pilgrimage, and the life and times of the great Khyentsé Wangpo.
Unusually, the text is designed to appeal to the lay reader while presenting in-depth research. To do so, it is divided between main text, using phonetic spellings, and footnotes using technical transliteration. Added to this are some250 historic photos of the places described, 500 recent ones, and a beautiful series of 15 maps in neo-traditional style, designed and drawn for the book, using data researched by the author. The effect is a layered presentation of a large range of information.
This book has now been in use for a century, consulted and cherished by literate pilgrims from all over the Tibetan world. It also gained the attention of foreign pioneers of Tibetan studies in their search for non-liturgical literature. Akester has revisited the guide, dividing the 200 plus entries in the guide to 18 chapters in the three main regions, each beginning with a translation of the relevant section of the guide and then going through it place by place. In each case the location is pinpointed, the history and folklore summarised in varying degrees of detail, and the buildings described as they were before 1959. This updated volume is for modern scholars, researchers, and those interested in the spiritual history of Tibet.
---
We Also Recommend