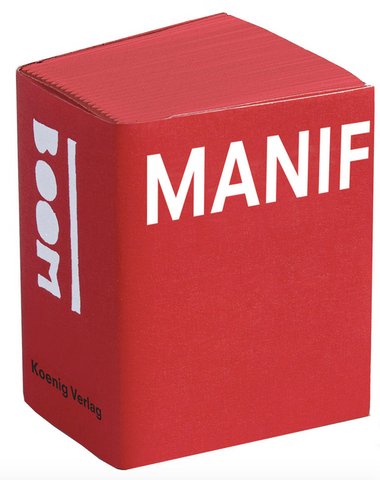 Irma Boom: Book Manifest
**if not in-store, please allow up to 2 weeks for delivery** หากหนังสือหมดจากหน้าร้าน เราจะส่งภายใน 10-14 วัน**
A miniature manifesto for the endless possibilities of the book form, from the world's most famous living book designer
In Book Manifest, world-renowned Dutch designer Irma Boom presents her vision on the essence, meaning and relevance of the book. Based on the in-depth research that Boom conducted into the development of the book in the library of the Vatican, Book Manifest is at once a survey of the history of the book and a miniature Irma Boom retrospective, reproducing a selection of more than 350 books she has designed over the course of her eminent career. Alongside reproductions, Boom extensively discusses the relationship between her work and older book forms.
With this tiny (two and a half by three inches), slipcased, 1,000-page, richly illustrated volume, itself an exceptional feat of bookmaking, Boom aims to inspire and encourage a new generation of designers to experiment and develop new ways of conceiving this simplest and most enduringly effective of forms.
Described by Eye Magazine as "the Queen of Books," Irma Boom (born 1960) has created more than 300 books, always challenging the conventions of both design and printed content. She is the youngest recipient of the Gutenberg Prize, recognizing outstanding services to the advancement of the book arts. A selection of Boom's books are held in the permanent collection of the Museum of Modern Art, New York, and an Irma Boom Archive has been instituted at the University of Amsterdam, Netherlands, to showcase her work.
130 x 197 x 35 (mm), 1000 pages, Softcover, August 2022.
---
We Also Recommend