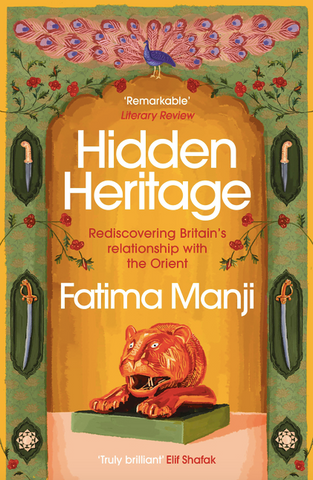 Hidden Heritage: Rediscovering Britain's Relationship with the Orient
**if not in-store, please allow up to 2 weeks for delivery** หากหนังสือหมดจากหน้าร้าน เราจะส่งภายใน 10-14 วัน**
A vital new perspective on British history from award-winning broadcaster Fatima Manji
This is such an important, brave book that sheds a calm, bright light on the complexity of history at a time when simplistic assumptions have become the norm.
It is truly brilliant
Elif Shafak
Why was there a Turkish mosque adorning Britain's most famous botanic garden in in the eighteenth century? And more importantly, why is it no longer there? How did one of the great symbols of an Indian king's power, a pair of Persian-inscribed cannon, end up in rural Wales? And who is the Moroccan man that stole British hearts depicted in a long forgotten portrait hanging in a west London stately home?
Throughout Britain's galleries and museums, civic buildings and stately homes, relics can be found that beg these questions and more. They point to a more complex national history than is commonly remembered. These objects, lost, concealed or simply overlooked, expose the diversity of pre-twentieth-century Britain and the misconceptions around modern immigration narratives.
Hidden Heritage
 powerfully recontextualises the relationship between Britain and the people and societies of the Orient. In her journey across Britain exploring cultural landmarks, Fatima Manji searches for a richer and more honest story of a nation struggling with identity and the legacy of empire.
A timely, brilliant and very brave book
Jerry Brotton, author of 
This Orient Isle: Elizabethan England and the Islamic World
A compelling read about a history of Britain rarely cited and one that enriches an understanding of our complex, intriguing and wonderful past Daljit Nagra
19.84 cms L x 12.85 cms W, 304 pages, Softcover, August 2022.
---
We Also Recommend