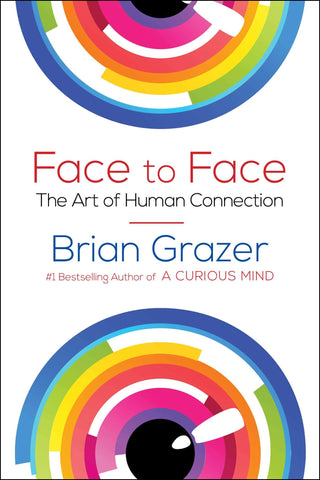 Face to Face: The Art of Human Connection by Brian Grazer
Cover: Hardcover
Pages: 198
Much of Brian Grazer's success—as a #1 New York Times bestselling author, Academy Award–winning producer, father, and husband—comes from his ability to establish genuine connections with almost anyone. In Face to Face, he takes you around the world and behind the scenes of some of his most iconic movies and television shows, like A Beautiful Mind, Empire, Arrested Development, American Gangster, and 8 Mile, to show just how much in-person encounters have revolutionized his life—and how they have the power to change yours.

With his flair for intriguing stories, Grazer reveals what he's learned through interactions with people like Bill Gates, Taraji P. Henson, George W. Bush, Barack Obama, Eminem, Prince, Spike Lee, and the Afghani rapper activist Sonita: that the secret to a bigger life lies in personal connection. In a world where our attention is too often focused downward at our devices, Grazer argues that we are missing an essential piece of the human experience. Only when we are face to face, able to look one another in the eyes, can we form the kinds of connections that expand our world views, deepen our self-awareness, and ultimately lead to our greatest achievements and most meaningful moments.

When we lift our eyes to look at the person in front of us, we open the door to infinite possibility.
Format: Hardcover
Pages: 208
Size: 14.3 x 1.8 x 21.3 cm
---
We Also Recommend