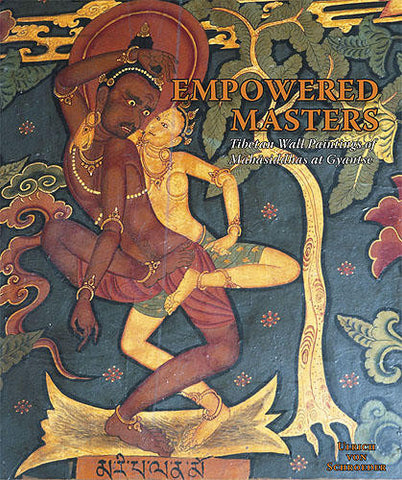 EMPOWERED MASTERS: TIBETAN WALL PAINTINGS OF MAH?SIDDHAS AT GYANTSE
EMPOWERED MASTERS: TIBETAN WALL PAINTINGS OF MAH?SIDDHAS AT GYANTSE
Ulrich von Schroeder
Some of the most important Tibetan Buddhist monuments to have survived the ravages of history are the temples and chapels at Gyantse in Southern Tibet. In a chapel on the upper floor of the Palkhor Tsuglagkhang there exist superb wall paintings of the legendary eighty-four mah?siddhas – tantric adepts who, through effort and practice, have attained perfection and are endowed with extraordinary powers.
These 15th-century images are the most splendid extant painted representations of mah?siddhas in Tibet, yet they have never been published as an entire cycle until now. This has largely been due to the exceedingly difficult task of identification.
Empowered Masters: Tibetan Wall Paintings of Mah?siddhas at Gyantse illustrates and describes these important murals. Each of the vivid masters is wonderfully presented; each has a name inscribed in Tibetan script. The stories of the mah?siddhas depict unorthodox, existential lives that encompass all of human experience, and provide insight into a wide range of tantric practice. This book introduces the monastic complex of Gyantse, then guides the reader through every wall painting of this magnificent chapel. Each mah?siddha image is illustrated in a full colour plate, with an accompanying description on the opposite page. The text briefly describes stylistic elements as well, and the introduction and appendices provide fascinating further information.
---
We Also Recommend