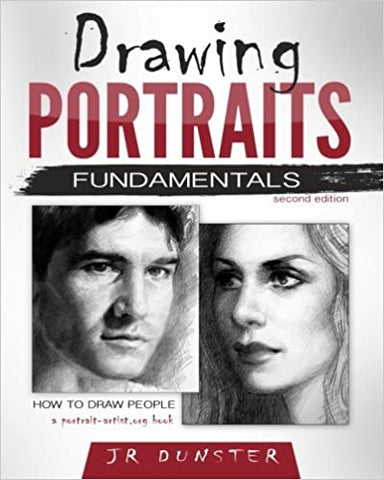 Drawing Portraits Fundamentals: A Portrait-Artist.org Book - How to Draw People by J R Dunster
Learn how to draw portraits. Don't worry about "talent"! It's not necessary. Many people who didn't think they were "artists" have discovered they have the ability to draw portraits. You can learn too! It's a matter of education and practice.
This is a full-length book with approximately 200 original illustrations and lots of how-to and step-by-step tutorials, thorough explanations of beginner as well more advanced drawing concepts. While this book is inspired by the tutorial site portrait-artist.org, a lot of the content is new and was created specifically for the book.
This is the second edition of the book and has many added pages, new illustrations, new articles and other updates and improvements.
Topics in the book include:
Beginning drawing, getting started, learning the grid, learning pencil techniques.
Overview of the head.
Drawing the profile.
Features of the head.
Facial "landmarks," anatomy, and proportions of the figure, an overview.
Step-by-step portraits
Working in a tighter (more detailed) technique, tips and techniques.
Shading explained: Understand values and how to make your art look more realistic
Making up your own faces from your imagination: Exercises and techniques
"Don't Do That!" Common beginner mistakes that are easy to avoid.
Advice for new artists: Taking the right attitude, dealing with discouragement, feelings of competition, art snobs, tracing photos vs. drawing freehand, digital tools.
More things artists should know: Drawing from life (live models), the current state of formal art education, introduction to working in color (color palette recommendations, brief overview of painting mediums).
Details
Format: Paperback
Pages: 274
Size: 20.3 x 1.5 x 25.4 cm
---
We Also Recommend