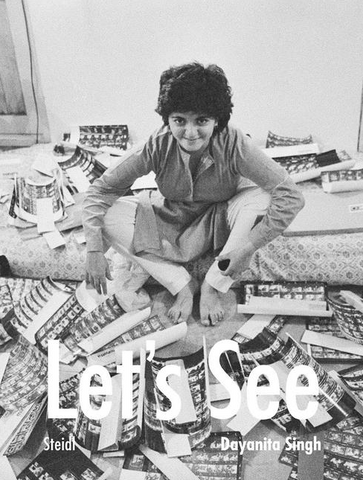 Dayanita Singh: Let's See
**if not in-store, please allow up to 2 weeks for delivery** หากหนังสือหมดจากหน้าร้าน เราจะส่งภายใน 10-14 วัน**
A photo-novel of Dayanita Singh's earliest years as a photographer
A return to a time when Dayanita Singh (born 1961) did not yet consider herself a photographer, Let's See is the probing remembrance of "an eye I no longer have access to." Singh has recently poured through 40 years of her archive--80% of which remains unseen--exploring scans of her contact sheets and being amazed by the gentle and tender images from the 1980s and '90s she had since forgotten--hostel roommates, friends with whom she lived, family, weddings, funerals; portraits of herself and those who would become important characters in her life: her mother, Nony Singh, the musician, Zakir Hussain, and Mona Ahmed, whom she depicted in the emotive visual biography Myself Mona Ahmed (2001).
Singh's first camera, a Pentax ME Super with a 50 mm lens, was a gift from the German publisher Ernst Battenberg, and with it she "made photos of everything I could, trying to make a roll of film last as long as possible," creating contact sheets of all her images, but realizing the rare luxury of an individual print only for a publication or a book project. "I call this book Let's See," says Singh, "because these images are about exactly that: how we see, what we don't see, what only the camera sees...."
2.03 cms H x 19.56 cms L x 14.73 cms W, 240 pages, Softcover, June 2022.
---
We Also Recommend