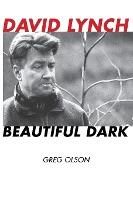 David Lynch: Beautiful Dark by Greg Olson
PRE-ORDER to RESERVE a COPY
For nearly 40 years, David Lynch's works have enthralled, mystified, and provoked viewers. Lynch's films delve into the subjective consciousness of his characters to reveal both the depraved darkness and luminous spirituality of human nature. From his experimental shorts of the 1960s to feature films like Eraserhead, The Elephant Man, Blue Velvet, Mulholland Drive, and INLAND EMPIRE, Lynch has pushed the boundaries of cinematic storytelling.

In David Lynch: Beautiful Dark, author Greg Olson explores the surreal intricacies of the director's unique visual and visceral style not only in his full-length films but also his early forays into painting and short films, as well as his television landmark, Twin Peaks. This in-depth exploration is the first full-length work to analyze the intimate symbiosis between Lynch's life experience and artistic expressions: from the small-town child to the teenage painter to the 60-year-old Internet and digital media experimenter.

To fully delineate the director's life and art, Olson received unprecedented participation from Lynch, his parents, siblings, old school friends, romantic partners, children, and decades of professional colleagues, as well as on-set access to the director during the production of Twin Peaks: Fire Walk with Me. Throughout this study, Olson provides thorough analyses of the filmmaker's works as Lynch conceived, crafted, and completed them. Consequently, David Lynch: Beautiful Dark is the definitive study of one of the most influential and idiosyncratic directors of the last four decades.
725 pages, Paperback
150 x 225 x 44mm 

---
We Also Recommend