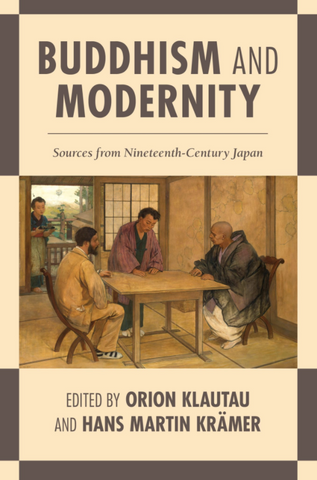 Buddhism and Modernity: Sources from Nineteenth-Century Japan Edited by Orion Klautau and Hans Martin Krämer
**If not in-store, please allow up to 2 weeks for delivery** หากหนังสือหมดจากหน้าร้าน เราจะส่งภายใน 10-14 วัน**
Japan was the first Asian nation to face the full impact of modernity. Like the rest of Japanese society, Buddhist institutions, individuals, and thought were drawn into the dynamics of confronting the modern age. Japanese Buddhism had to face multiple challenges, but it also contributed to modern Japanese society in numerous ways. Buddhism and Modernity: Sources from Nineteenth-Century Japan makes accessible the voices of Japanese Buddhists during the early phase of high modernity.
The volume offers original translations of key texts—many available for the first time in English—by central actors in Japan's transition to the modern era, including the works of Inoue Enryō, Gesshō, Hara Tanzan, Shimaji Mokurai, Kiyozawa Manshi, Murakami Senshō, Tanaka Chigaku, and Shaku Sōen. All of these writers are well recognized by Buddhist studies scholars and Japanese historians but have drawn little attention elsewhere; this stands in marked contrast to the reception of Japanese Buddhism since D. T. Suzuki, the towering figure of Japanese Zen in the first half of the twentieth century. The present book fills the chronological gap between the premodern era and the twentieth century by focusing on the crucial transition period of the nineteenth century.
Issues central to the interaction of Japanese Buddhism with modernity inform the five major parts of the work: sectarian reform, the nation, science and philosophy, social reform, and Japan and Asia. Throughout the chapters, the globally entangled dimension—both in relation to the West, especially the direct and indirect impact of Christianity, and to Buddhist Asia—is of great importance. The Introduction emphasizes not only how Japanese Buddhism was part of a broader, globally shared reaction of religions to the specific challenges of modernity, but also goes into great detail in laying out the specifics of the Japanese case.
300 pages, Hardcover, March 2021.
---
We Also Recommend