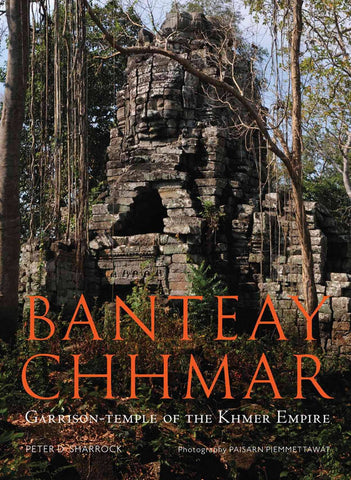 Banteay Chhmar: Garrison Temple of the Khmer Empire
The secrets of the great temple and city of Banteay Chmar have been buried in this vast forestclad sandstone ruin for 800 years. Now that it is finally being restored, it is revealed as the twin-hub of the Khmer Empire under its greatest king, Jayavarman VII (1181-1219), the 47 Buddha-faced towers linking it with Angkor s 59 tower Bayon.
As well as taking the visitor on a detailed tour of the monument, the book includes a new translation of the temple's main inscription, aligned with a contemporary inscription in neighboring Champa. This recounts the lost story of how the Cambodians marshalled their army in this temple, sending it from here to conquer Champa. The campaign is also reflected in a 'newsreel' of politico-military reliefs carved into the outer gallery of the temple, lavishly illustrated here for the first time. In addition, the story surrounding the unique series of Avalokiteshvara reliefs, their partial theft and recovery are also discussed.
Banteay Chhmar was also key to the gathering and distribution of precious medicinal herbs for the world's first chain of 102 hospitals under the care of the gentle medicine Buddha Bhaisajyaguru.
---
We Also Recommend