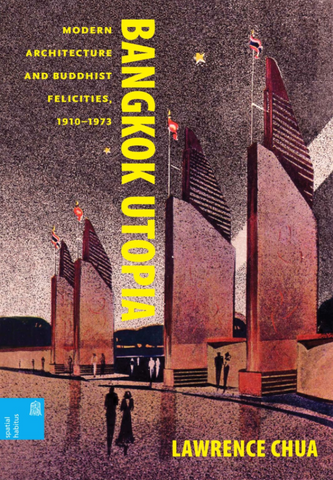 Bangkok Utopia: Modern Architecture and Buddhist Felicities, 1910-1973 by Lawrence Chua
**If not in-store, please allow up to 2 weeks for delivery** หากหนังสือหมดจากหน้าร้าน เราจะส่งภายใน 10-14 วัน**
"Utopia" is a word not often associated with the city of Bangkok, which is better known for its disorderly sprawl, overburdened roads, and stifling levels of pollution. Yet as early as 1782, when the city was officially founded on the banks of the Chao Phraya river as the home of the Chakri dynasty, its orientation was based on material and rhetorical considerations that alluded to ideal times and spaces. The construction of palaces, monastic complexes, walls, forts, and canals created a defensive network while symbolically locating the terrestrial realm of the king within the Theravada Buddhist cosmos. Into the twentieth century, pictorial, narrative, and built representations of utopia were critical to Bangkok's transformation into a national capital and commercial entrepôt. But as older representations of the universe encountered modern architecture, building technologies, and urban planning, new images of an ideal society attempted to reconcile urban-based understandings of Buddhist liberation and felicitous states like nirvana with worldly models of political community like the nation-state.
Bangkok Utopia outlines an alternative genealogy of both utopia and modernism in a part of the world that has often been overlooked by researchers of both. It examines representations of utopia that developed in the city--as expressed in built forms as well as architectural drawings, building manuals, novels, poetry, and ecclesiastical murals--from its first general strike of migrant laborers in 1910 to the overthrow of the military dictatorship in 1973. Using Thai- and Chinese-language archival sources, the book demonstrates how the new spaces of the city became arenas for modern subject formation, utopian desires, political hegemony, and social unrest, arguing that the modern city was a space of antinomy--one able not only to sustain heterogeneous temporalities, but also to support conflicting world views within the urban landscape. 
By underscoring the paradoxical character of utopias and their formal narrative expressions of both hope and hegemony, Bangkok Utopia provides an innovative way to conceptualize the uneven economic development and fractured political conditions of contemporary global cities. 
Bangkok Utopia is one of the most exciting books in Southeast Asian architecture and modern history I have read in years. It will become the standard through which we understand the evolution of modern Thai public architecture. Nearly every page offers readers a little-known fact or fascinating aside that makes the last 150 years of Thai architecture come alive. It provides a welcome and novel approach to the history of Thai politics through the built environment and emphasizes the agency of Thai architects and political and religious visionaries who did not merely borrow or mimic foreign (read: western) architectural techniques or trends but developed their own styles for their own particular public messages  —Justin McDaniel, University of Pennsylvania
296 pages | 70 illustrations, 36 in color, Hardcover, February 2021.

---
We Also Recommend