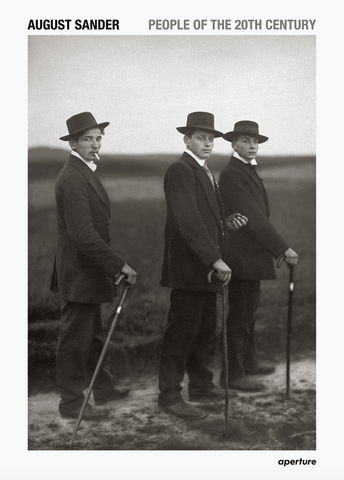 August Sander: People of the 20th Century: A Cultural Work in Photographs
**if not in-store, please allow up to 2 weeks for delivery** หากหนังสือหมดจากหน้าร้าน เราจะส่งภายใน 10-14 วัน**
A landmark in the history of modern art, People of the 20th Century presents the fullest expression of the German photographer August Sander's lifelong work: a monumental endeavor to amass an archive of twentieth-century humanity through a cross section of German culture.

Sander photographed subjects from all walks of life, capturing bankers and boxers, soldiers and circus performers, farmers and families, to create a catalog of the German people, arranged by their profession, gender, and social status. First imagined in the 1920s, he pursued the project for more than fifty years during a politically charged and rapidly changing time, fraught by two world wars and the devastating repercussions of Nazism. Sander never finished the seven-volume, forty-nine portfolio magnum opus, continually refining and shaping it to convey an understanding of the world in which he lived. The photographs, remarkable for their unflinching realism and deft analysis of character, provide a powerful social mirror of Germany between the wars and form one of the most influential achievements of the twentieth century.

Now made available again, People of the 20th Century brings together the exquisite reproductions and principal texts of the long out-of-print, seven-volume edition, as well as the main scholarship from the accompanying study edition. This all-in-one edition, with 619 photographs, offers the most comprehensive iteration of Sander's still-essential vision.
5.84 cms H x 29.21 cms L x 24.38 cms W, 808 pages, Hardcover, August 2022.
---
We Also Recommend