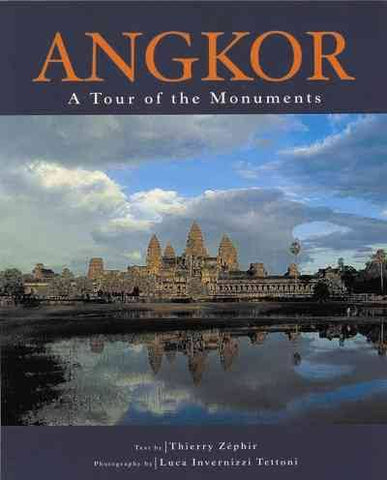 Angkor: A Tour of the Mounuments
This is a volume on the art and architecture of the temple complexes of Angkor. Tracing the history of Angkor Wat
from its beginnings in legend to its early incarnation as a centre of Hindu worship, before its transition in the
14th century to a major landmark of Buddhist architecture, author Thierry Zéphir uncovers the layers of history
buried beneath the ruins of Angkor, first guiding readers through Angkor Wat before bringing them to Angkor
Thom, as well as the areas surrounding Angkor where lesser-known but equally intriguing structures still stand.
The book consists of a rich visual array of photographs which illustrate both the vastness of the ancient complex as
well as the intricacies of the stonework within. Picture spreads are testament to the extensive nature of Angkor's
temples, while close-ups reveal the infinite detail that is inherent throughout. Individual chapters are devoted to
Angkor Wat and Angkor Thom, while two further chapters, 'Around Angkor Thom' and 'Away from Angkor', focus
on the ruins in the landscape around the region. Pictures in each section are prefaced by well-researched texts which
furnish the reader with historical information, placing the buildings against a backdrop of larger developments and
trends in ancient Cambodian history and culture. The author illuminates each photograph in unstinting detail,
bringing acclaimed photographer Luca Invernizzi Tettoni's pictures to life with expert knowledge. Angkor: A Tour of
the Monuments proves to be an invaluable reference source for serious readers of the subject as well as for those
wishing to acquaint themselves for the first time with one of Cambodia's most important monuments.
---
We Also Recommend