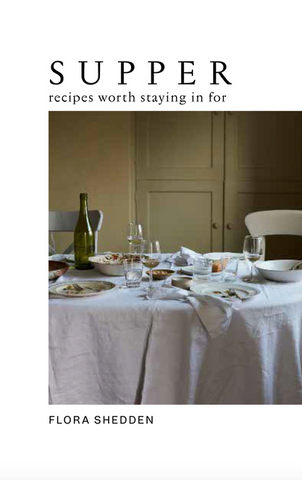 Supper: Recipes Worth Staying in for
**Forthcoming 22 November 2022** Pre-Order Now to reserve a copy!  **สั่งจองล่วงหน้าได้เลยเพื่อให้ได้รับอย่างรวดเร็วเมื่อหนังสือออก**
Supper is a show-stopping collection of Flora Shedden's best-loved recipes for transforming the often-mundane dining-in experience into something worth staying in for.
For a super-easy mid-week dinner, why not try Ginger Noodles with Chili Oil, ready in just 30 minutes? Or for a wonderfully romantic Friday night feast for two, serve up her Spiced Lamb with Lemony Hummus. Or for a suitably sweet ending, Flora's Brown Sugar Cheesecake is sure to be a hit.
Featuring over 100 delicious and doable recipes, alongside sample menu suggestions, drink ideas and guidance on how to make the most of your leftovers, this book will show home cooks how to elevate even the most ordinary dinners at home, into something joyful and celebratory.
224 pages, Hardcover, November 2022.
---
We Also Recommend