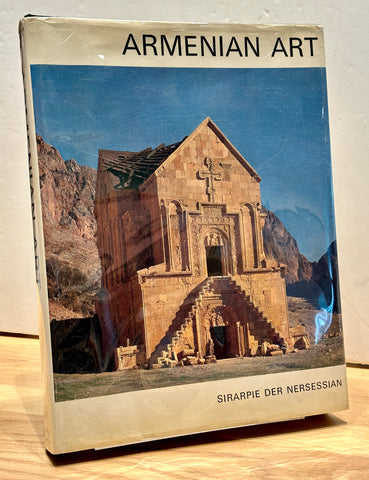 Armenian Art by Sirarpie Der Nersessian
For many centuries Armenia, lying between Anatolia and the Iranian plateau, was a prey to conquerors and invaders from east and west: the Sassanids, the Seljuks, the Mongols, the Ottomans and many other peoples and dynasties contended for power in a region now divided between modern Turkey, Iran and Russia. From this melting-pot of cultures, an art of varied inspiration but distinctive form developed, an art of primary importance which has remained virtually unknown until its detailed presentation in this book.

After a brief resume of the achievements of the Urartian period and an examination of the rare relics of antiquity, the distinguished scholar Sirarpie der Nersessian concentrates on the millennium following the establishment of Christianity as the state religion early in the fourth century AD. Architecture, sculpture, and painting—in particular the magnificent illuminated manuscripts—are discussed and illustrated in chapters which correspond to the principal epochs of Armenian history down to the seventeenth century. Each period of independence from foreign suzerainty brought a surge of activity, while contacts with distant countries and cultures continued to enrich the artistic heritage that resulted. Armenian art found its most original expression in architecture; in buildings of supreme beauty and remarkable workmanship that rank among the greatest feats of medieval art.

Nearly 180 illustrations, the majority in colour and many of them photographed directly in Russia, Turkey and Jerusalem, reveal the full extent of the Armenian cultural achievement."
28.5cm x 37.5cm, 270 pages, Hardcover, 1978 (Condition: Very Good)
Condition Definition:
As New / Fine = New or almost without defect
Very Good = Showing signs of wear
Good / Fair = A bit worn but complete, with defects noted
Poor = worn with visible defects
---
We Also Recommend