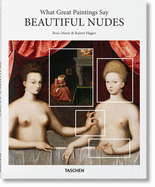 What Great Paintings Say. Beautiful Nudes by Rainer & Rose-Marie Hagen
**if not in-store, please allow up to 2 weeks for delivery** หากหนังสือหมดจากหน้าร้าน เราจะส่งภายใน 10-14 วัน**
It might seem like the sitters and subjects of art history's greatest nude paintings have little left to show, but don't be fooled: there is more than meets the eye in these naked masterworks. Rose-Marie and Rainer Hagen guide us into the secrets of the flesh, coupling extended discussions with crisp, enlarged details of 12 iconic works from the canon of art history.
Biblical tales of morality or modern portrayals of leisure, works such as Tintoretto's Susanna and the Elders or Manet's The Luncheon on the Grass offer diverse visions of natural beauty. Each artwork is presented in reproductions of the highest quality, sourced directly from the original, located in collections of the Louvre, Musée d'Orsay, Uffizi, and many others.
From works depicting ultimate feminine grace, like Velázquez's Rokeby Venus, to Hans Baldung's mesmerizing image of the body's decline in The Three Ages of Man and Death, these paintings are unified in their masterful rendering of the bare human form―both in life and beyond. Through this exploration into the covert secrets of nude works, they cease to be two-dimensional and come to full hot-blooded life.
Hardcover, 1.27 cms H x 26.42 cms L x 21.08 cms W (0.54 kgs) 96 pages
---
We Also Recommend