Inez van Lamsweerde/Vinoodh Matadin. Pretty Much Everything
Two artists, one vision
The enigmatic and genre-defying work of Inez van Lamsweerde and Vinoodh Matadin
"
It is typical of the photographic art of van Lamsweerde and Matadin that they urge their image making to de-stabilise the pristine surfaces expected of consumer culture; to this end they make use, in turn, of the Gothic, inscrutability, androgyny, comedy, eroticism, surrealism, fantasy, montage, cinema, replication, image manipulation, Pop art, fetishism and art historical nuance
."—Michael Bracewell
Inez van Lamsweerde
and
Vinoodh Matadin
's work has graced the walls and pages of some of the world's finest galleries and fashion magazines, and if it is surprising that their photographs easily float between these worlds, it is by virtue of their ease in creating imagery that seeks homes in both culturally elite and mainstream outlets. For some of their photographs, such as their portrait of Björk or campaign for Givenchy, van Lamsweerde and Matadin have worked in collaboration with the art directors M/M (Paris), who have also designed this retrospective that looks back at "pretty much everything" that the photographers have been working on for over two decades and that has brought them to the forefront in the fields of both art and fashion.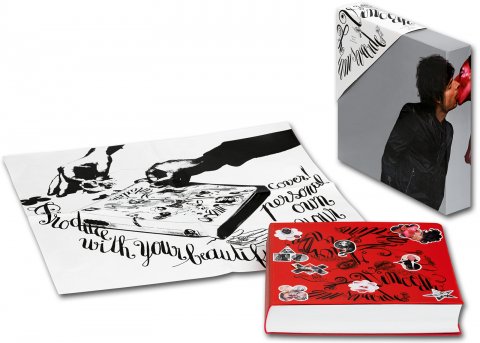 This standard TASCHEN edition—an affordable version adapted from the limited edition—comes with a sheet of stickers so you can personalize your cover!
The designer:
Established in Paris in 1992, M/M (Paris) is an art and design partnership consisting of Mathias Augustyniak and Michael Amzalag. They are best known for their art direction and collaborations with musicians, fashion designers, and contemporary artists, including Björk, Madonna, Yohji Yamamoto, Balenciaga, Pierre Huyghe, and Inez van Lamsweerde & Vinoodh Matadin, as well as magazines including Vogue Paris, Interview, and Purple Fashion. In addition to solo shows in galleries in Europe and Japan, they have participated in exhibitions at Centre Pompidou and Guggenheim New York, and their work is featured in public collections around the world.

The contributing author:
Glenn O'Brien is a writer who lives in New York. He is the author of How to Be a Man, Human Nature (dub version), and Soap Box.
---