Emilio Pucci
The prince of prints
Pucci's vision and legacy
Emilio Pucci
(1914-1992) had a passion for women, a visionary sense of style, and an eye for color and design. With these talents he created
a fashion house unlike any other.
By the early '50s his boutique on the isle of Capri was catering to wealthy sophisticates, heiresses and movie stars buying his "Capri pants", silk scarves and lightweight separates. By the end of the decade, Jacqueline Kennedy and Marilyn Monroe were wearing his dresses, and by the mid-60s the label was synonymous with the gilded lifestyle of an international jetset. Today, the house remains as vibrant as ever – Victoria Beckham, Elizabeth Hurley, and Kylie Minogue are adherents.
The Pucci story is a modern epic with its roots in renaissance Italy:
the brand's founder, the Marchese Emilio Pucci di Barsento, was a charismatic aristocrat whose lineage extends back to the 14th century. It is a story of evolution: how a family company grew from one tiny store to an international brand with 50 boutiques worldwide (and a presence in 300 more). And finally, it is a tale of innovation: Pucci was
one of the first brands to bear a logo
, and
a pioneer of diversification into interiors, athletic wear and accessories.
It introduced free-moving, lightweight fabrics, pop art prints, and a new color palette into womenswear, and constantly pushed fabric and printing technologies.
Featuring
hundreds of photographs, drawings, and candid shots from the archive of the Emilio Pucci Foundation
, this tome captures the breathtaking elegance and drama of a unique brand.
Vanessa Friedman's text
places Emilio's achievements in the context of fashion history, and provides insight into the remarkable Pucci dynasty.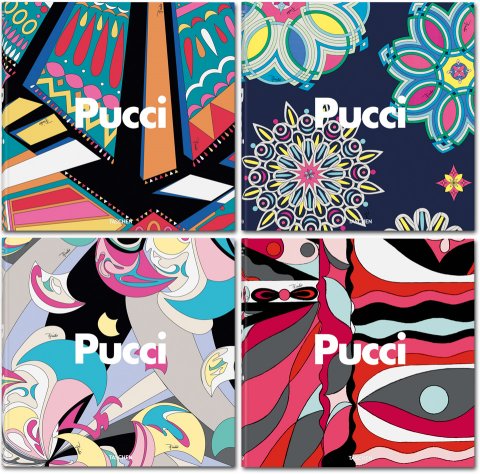 Available in four different cover designs, each depicting an original pattern from the Pucci collection.First published as a limited edition - now available in a standard TASCHEN edition!
The author:
Vanessa Friedman
is fashion editor of the
Financial Times
, where she writes a weekly style column and the blog
Material World
. Previously, she was the features director of UK
In Style
, and contributed regularly to
The Economist
,
The New Yorker
,
Vogue
, and
Entertainment Weekly
. She is the winner of the Newswomen's Club of New York Front Page award for specialty writing, and is on the advisory council of Princeton University's History Department.
The contributing author:
Alessandra Arezzi Boza
is a Costume and Fashion historian, has worked as a consultant for the Costume Gallery at Palazzo Pitti in Florence and in several projects for fashion houses and their archives. Since 2001 she is the curator of the Emilio Pucci Foundation.
The editor:
Armando Chitolina
worked as a design consultant and art director at
Vogue Italia
and
L'Uomo Vogue
, and image consultant for fashion houses Moschino and Mila Schön. His TASCHEN titles include
William Claxton's Jazz Seen, Gian Paolo Barbieri's Equator, The Book of Tiki,
Naked as a Jaybird
and
Valentino: A Grand Italian Epic.
---
We Also Recommend
---