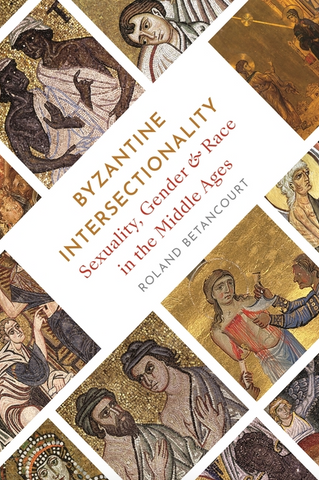 Byzantine Intersectionality: Sexuality, Gender, and Race in the Middle Ages
**if not in-store, please allow up to 2 weeks for delivery** หากหนังสือหมดจากหน้าร้าน เราจะส่งภายใน 10-14 วัน**
A fascinating history of marginalized identities in the medieval world
While the term "intersectionality" was coined in 1989, the existence of marginalized identities extends back over millennia. 
Byzantine Intersectionality
 reveals the fascinating, little-examined conversations in medieval thought and visual culture around sexual and reproductive consent, bullying and slut-shaming, homosocial and homoerotic relationships, trans and nonbinary gender identities, and the depiction of racialized minorities. Roland Betancourt explores these issues in the context of the Byzantine Empire, using sources from late antiquity and early Christianity up to the early modern period. Highlighting nuanced and strikingly modern approaches by medieval writers, philosophers, theologians, and doctors, Betancourt offers a new history of gender, sexuality, and race.
Betancourt weaves together art, literature, and an impressive array of texts to investigate depictions of sexual consent in images of the Virgin Mary, tactics of sexual shaming in the story of Empress Theodora, narratives of transgender monks, portrayals of same-gender desire in images of the Doubting Thomas, and stereotypes of gender and ethnicity in representations of the Ethiopian Eunuch. He also gathers evidence from medical manuals detailing everything from surgical practices for late terminations of pregnancy to save a mother's life to a host of procedures used to affirm a person's gender.
Showing how understandings of gender, sexuality, and race have long been enmeshed, Byzantine Intersectionality offers a groundbreaking look at the culture of the medieval world.
3.05 cms H x 23.37 cms L x 15.49 cms W, 288 pages, Hardcover, October 2020.
---
We Also Recommend