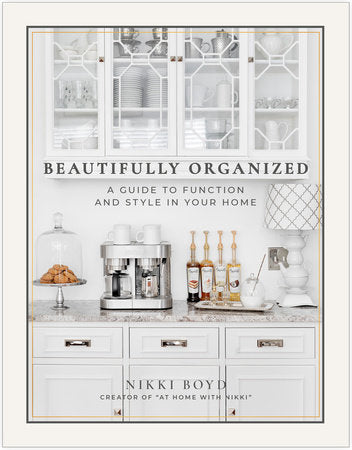 Beautifully Organized A GUIDE TO FUNCTION AND STYLE IN YOUR HOME By NIKKI BOYD
YouTube Star Nikki Boyd shares her best advice for how to design a beautiful, welcoming, and well-organized home. Nikki developed and honed her five essential steps to an organized home through her experience working as a professional organizer. Now in this book, she shows you how to transform your space and enhance your life at home.

   • Assess, Declutter, Clean, Organize, and Beautify: Learn the5 simple steps to transform every room in your home and create a welcoming atmosphere for family and friends 
  • Interior Design Inspiration: Gorgeous, inspirational home photos on every page 
  • Beautiful coffee table and home decor book: Ranked best coffee table book by Stylecaster! 

With her keen eye for detail and trademark warmth, Nikki guides readers through her signature steps, teaching how to graciously share your homes with family and friends to create treasured shared experiences and memories. Beautifully Organized is so much more than a home organization book—it's a recipe for a beautiful, fulfilling life. 
Hardcover,  224 Pages, Size: 7 x 9
---
We Also Recommend